Safety with Portable Space Heaters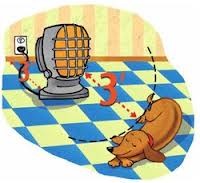 With winter's colder temperatures, fires due to the use of portable space heaters are expected to rise. Heating equipment is one of the leading causes of home fires with nearly half occurring in the winter months. While space heaters don't have an open flame, their heating elements can get hot enough to ignite draperies, clothing, paper, furniture and flammable liquids, posing a serious fire hazard.
Burke Emergency Restoration wants you and your family to be safe this winter by adhering to the following life-saving tips:
DO's:
Before purchasing a space heater, look for one that is listed with a nationally-recognized testing laboratory to ensure that it meets all safety standards.
Purchase a space heater that has a guard around the heating element.
Before use, read all safety instructions that come with your space heater.
Place the space heater on a level surface to ensure stability.
When running a space heater, check nearby objects frequently to see if they are hot to the touch.
Keep the heater at least 3 feet away from drapes, furniture or other flammable materials.
Install and maintain smoke detector's on each floor of your home.
Use a heavy duty extension cord marked with a #14 gauge or larger wire (keep in mind that a #12 gauge is larger than a #14 gauge). An incorrectly sized cord may create a fire hazard.
DON'T's:
Never use a space heater to dry clothing or thaw frozen pipes.
Do not use a defective space heater under any circumstances.
Do not place the space heater near children or pets.
Do not run the space heater's cord under rugs or carpeting.
Never run the space heater near a sink or in a bathroom.
Never run the space heater while sleeping or leave it unattended.
WHAT TO DO IN THE AFTERMATH OF A FIRE:
Fires produce thousands of carcinogens. In order to safely remove these carcinogens from the air, as well as the accompanying soot on all contents and surfaces, you need the services of a professional restoration company like Burke Emergency Restoration. Our Service Technicians are trained and certified to ensure that your property is restored to its original, pre-loss condition. We are committed to providing prompt, professional and courteous service.