Holiday Safety Tips to Prevent Property Damage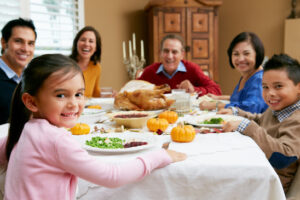 The holiday season is the time when we welcome family and friends into our home. It's a time to enjoy the sight of festive decorations like lights and candles and savor the taste of a home-cooked meal. It's also when we see a dramatic increase in the number of home fires.
According to the National Fire Protection Association, cooking fires account for 40% of all reported home fires and Thanksgiving is the peak day of the year for fires. To ensure the safety of your home and loved ones the National Fire Protection Association recommends that you follow these tips:
Safety starts in the Kitchen
Remain in the kitchen when cooking. If you must leave be sure to turn the stove off.
Loose clothing can easily catch fire, wear short or close fitting sleeves.
Never use water to extinguish a cooking fire.  Keep a fire extinguisher handy. Baking soda will extinguish only a small fire.
Do not overfill pots with cooking oil. Overflowing oil can easily catch fire.
Keep towels, bags, plastic and food packaging safely away from flame and heat.
Closely supervise children in the vicinity of the stove.
Install and test smoke alarms and check batteries monthly.
Christmas Tree Safety
Christmas trees, both real and artificial are particularly flammable if not properly cared for. Follow these tips for
If real, water the tree immediately. Be sure to continue to water daily and as frequently as necessary as the tree acclimates to the indoor environment.
Place the tree at least 3 feet away from a heat source.
Make sure artificial trees are fire retardant.
When decorating, use only lights rated for use indoors.
Replace lights that appear worn, frayed or broken.
Be sure to unplug the tree before leaving your home or going to bed.
Never go near a live tree with candles, lighters or matches.
Do not link more than 3 light strands unless the directions indicate that it is safe. Instead, connect strands to an extension cord.
When disposing of the tree, do not burn it in a fireplace- they are practically explosive. Instead, bring it to a recycling center or have it picked up by a disposal service.
Following these simple safety tips can help ensure a safe holiday season for you and your loved ones.