Eliminating Odor After a Fire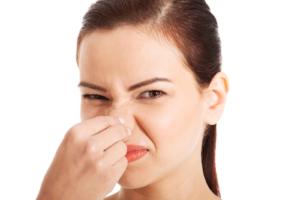 A property emergency like a fire or water loss can leave your home or place of business with offensive lingering odors. Smoke odor is particularly stubborn, as is the musty smell of mold or mildew. Industrial accidents involving chemical spills or biohazardous waste can produce noxious odors that can be particularly challenging to eliminate.
Musty smells are the result of improper or incomplete drying after a water loss. Burke ER technicians ensure that the structure is completely dry after a water loss by removing all traces of moisture through extraction and dehumidification. 
Technicians conduct daily moisture and humidity checks to ensure thorough drying and to maintain a recorded history of the drying process.
Odor due to fires can pose a challenging problem. Many factors contribute to smoke odor including the source of the fire, the heat of the fire, and the types of materials that were in the structure at the time of the fire.
Restoration professionals have the expertise and equipment to tackle and reduce these troublesome odors. Burke ER technicians will quickly formulate a plan of attack using deodorizers, cleaners, disinfectants and other state-of-the-art techniques to eradicate the problem.
Techniques to Remove Odor
The first step in removing odor after a fire is to remove the source.  Materials that are heavily damaged by heat or combustion are cataloged and removed from the property.  Porous materials such as mattresses that are smoke damaged will generally be removed as well.  Damaged structure will be evaluated to determine if it can be restored or needs to be removed.  All other materials will need a thorough cleaning and deodorization.  Oftentimes, conventional cleaning measures by a non-professional are simply not enough to do the trick. For example, the extreme heat from a fire can cause pores in materials to open up, effectively trapping contaminants into microscopic openings.  Once cooled, the pores close trapping the contaminants.  Depending on the specific circumstance, Burke ER technicians employ a variety of techniques to remove smoke odor which may include:
Hydroxyl or ozone generators: These generators produce ozone or hydroxyl gas that gets to surfaces unreachable by physical cleaning.  These gases chemically react with odor producing compounds to eliminate odor.  This technique is also effective on protein deposits that are produced from highly over cooked main courses (the neglected turkey). When ozone is being used the area to be treated must be vacant, and Burke ER technicians enter the treatment area only to turn the ozone unit on and off.  Burke ER also has a specially designed ozone chamber at their headquarters. Contents can be treated in the chamber for 24-48 hours after which most smoke odor is successfully eliminated. Ozone is particularly effective in eliminating tobacco smoke or pet odors.
Air Scrubbers:  Burke ER technicians will set up HEPA (High Efficiency Particulate Arrestor) Air Scrubbers to remove 99.97% of particulates from the air.
Thermal Fogging: Using a petroleum-based deodorizer, the thermal fogging unit fills the affected area with a mist-like deodorizer.  The purpose of fogging is to neutralize odors using fragrance modification.
 Vapor Modification: An aromatic compound vaporized from a sealed plastic container is dispensed into the air by a fan or blower.  Minerals used in this process are non-toxic, non-oily non-flammable and non-explosive. The deodorizer can also penetrate porous materials like upholstery or clothing. Similar to thermal fogging, Vapor Modification is a fragrance modification technique and is considered a permanent neutralization method.
Types of Odor Removal
 Removing tobacco smoke odor: Tobacco odor remediation is similar to fire odor remediation.  Where practical, the odor source is removed from the structure by cleaning or removal of materials. Deodorizing agents are then used to remove smoke from surfaces that cannot be accessed. After thorough cleaning and deodorization Burke ER technicians may use a specially designed sealant to lock in the very last odor producing compounds that may be trapped in porous surfaces. These surface will then be ready for paint or new coverings.
Removing odor from upholstery, clothing, draperies, bedding etc: Using our proprietary Esporta Wash System,  Burke ER can safely remove up to 99.9% of contaminants and odors from all soft contents. This includes leather goods, sports equipment like cleats, pads and helmets, draperies, bedding and clothing.
Removing pet odor or  biohazardous odors: Pet odor or odor due to decomposition can be a challenge. To avoid the risk of inhaling contaminants and also to avoid having any splashes contacting the mucous membranes of the nose or mouth, Burke ER technicians use respirators to remove noxious odors caused by pets or biohazardous materials.
Odors caused by fires can seriously compromise your health as well as the value of your property. It's wise to take the action to mitigate and treat such odors as quickly as possible.